Recent statistics from mobile operators are showing a further decline in SMS usage over the last year or so. It seems to growth of Smartphone messaging apps that's eating into SMS's usual territory. Personally I credit this to two main reasons.
The advance of online messaging applications

Now this might sound obvious but messaging apps have come a long way. Not just in terms of availability, but usability and adoption. There are far more people now using messaging apps, that have a greater number of features than ever before. With this advancement we've seen aggregation of several services. Take Trillain as an example (Google Play Trillian App) Out of the box it supports 'Facebook Chat, MSN, Google Talk, AIM, ICQ, Yahoo!, and Jabber'. This allows you to forget about potential compatibility issue, as compatibility is no longer an issue. The Apps are no longer restricted to a messaging network, they are cross platform compatible.
Also with the working model of App downloads people are more comfortable now downloading applications. As the percentage of mobile app downloads increases it follows that a certain percentage of that increase will be messaging applications.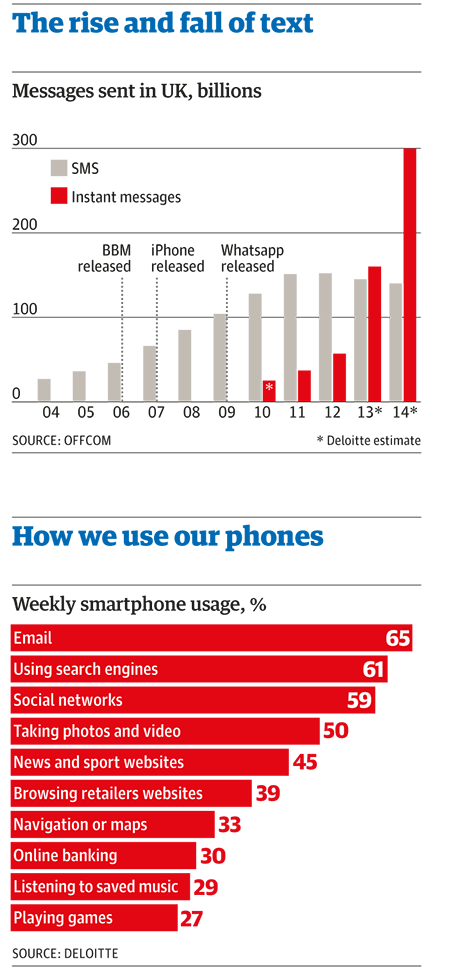 The push for data services
One thing that Telecoms companies have really pushed since the mid 2000's is the usage of the data network. Voice and SMS networks and usage have been relatively stable for a while now. The costs to operate them have come down and the tariffs customers buy have also come down. This may sound unbelievable based on the current operator contract process but recent statistics show that contracts are 27% less profitable than they were in 2005, partly due to pricing and partly due to the allowances included in them.
The only commodity left for a telecoms company to sell is data. Data is a measurable, metered commodity that can be priced for usage. It's the perfect target to try and get customers hooked on. You pay for a limited amount, use it all, and demand more, so you pay more. This encouragement leads to more uses of data. Customers want to use the data they have, so they find uses for it. Messaging being something they are already familiar with its an easy transition to switch from SMS to a messaging app, after all SMS is pretty much a pre-installed app these days anyway.
The future of SMS?
So are we only a few years away from an SMS-less mobile network? I don't think so, the problem with this is that the capital cost has been forked out for a mobile network that can support current SMS volumes, and continues to be spent on supporting it. Vodafone advertises a daily expenditure of between 1.5 and 2 million a day to support the existing network infrastructure. This is for voice, data and SMS but those things are intrinsically linked. They cannot extract the SMS functionality from the core network and stop supporting it, it just doesn't work like that. That leaves them with an expensive on-going support cost for a declining SMS market that is unlikely to ever go away. All you'll end out with there is a small resilient core of customers using the SMS network at an incredible costs (to the Telco) per SMS. SMS will never truly vanish.
You can read the Guardians view on this here.